The Stingray Music TV App gives you access to all 74 Stingray TV channels, free with your subscription to an Optik TV Basic package. In addition, users now have access to 2000 new Vibes channels.
Vibes channels features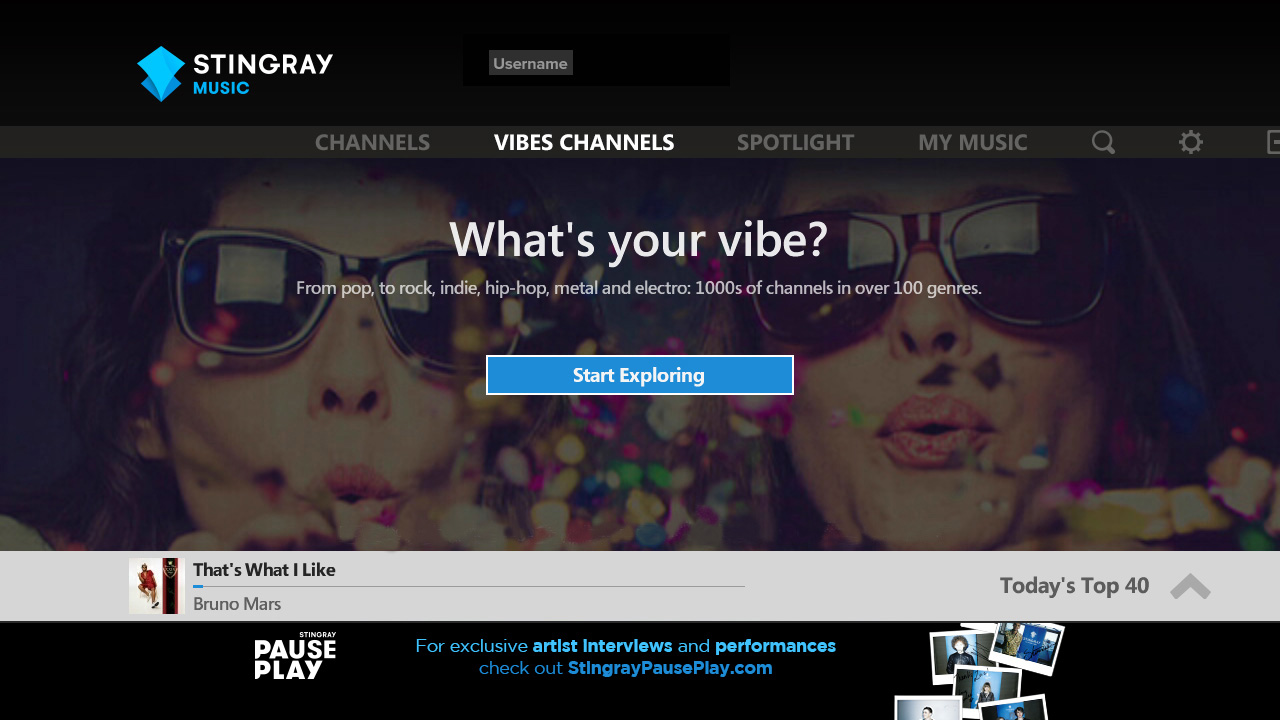 Music from 100+ genres including multicultural content.
Average 10-12 hours of music per channel.
Playlists curated by expert music programmers from around the globe.
New Vibes channels added every week.
Search by artist, channel, keyword, etc.
Combine filters from various categories.
Access the Stingray Music Application on your Optik TV
Select the Apps/Interactive button on your remote control.
Select Stingray Music App or tune to 7501-7960 and the application will launch automatically.
Use the directional (arrow) buttons to browse through the application
To exit the app, select the back button.
Finding music in the Vibes Channels Section
Access the Vibes Channels section, found on the main menu bar.
If there are no filters currently in use, an invitation to Start Exploring appears. Select this command.
The Explore interface will then appear. You can select filters from different categories based on activity, mood, theme, genre and era.

Or

Enter a keyword in the Search section found on the main menu bar.
Select up to three filters, one per category.
Select the playlist you want to listen to.
Note: Data used for the Vibes channels count towards your monthly Internet data allowance. The Stingray Music App Vibes channels use up to 0.1 GB of data per hour per stream. Data charges may apply if you exceed the data usage included with your Internet plan. For more information on data usage or to view your current usage, visit telus.com/internetusage.

Favourites feature
Once you have found a channel you enjoy, select the channel name beneath the playlist image.
A list of options will appear.
Select Add to My Channels.
Once a channel is made into a favourite, a heart icon appears next to its name.
Favourite channels are saved in My Channels.
To access My Channels, use the remote's arrow keys to move up the screen until the main menu bar is selected, and scroll to the right where the My Channels section appears.
Note: Favourite channels are displayed below the menu bar where they can be accessed.
Pair your mobile device with your TV
Ensure that you have the Stingray Music mobile application installed on your mobile device and that you have signed up for a Stingray account.
Login to the mobile application using the Authorize with your TV option.
On the Stingray Music TV app, move to the settings section where you can access the Pair Device page.
Follow the onscreen instructions.
Use your mobile device to scan an on-screen QR code or to enter a 4-digit code to pair your device.
When a success message is displayed, your customizations will be shared across both devices and will be updated automatically.
Pair your mobile device with the online web-player
Open your web browser and visit Stingray Webplayer
Select Listen Now, and choose Log In
Use your Stingray credentials to login or select Connect with mobile app and follow the onscreen instructions.
You should now have access to the web player.
If this is your first time logging in to the web player, please follow the instructions provided by selecting First time logging in.
Note: For more information, visit Stingray Music