Optik Restart feature
The Optik Restart feature allows you to start shows from the very beginning of the episode, even if you tune in late.
Note: For a list of channels that support the Optik Restart feature visit Optik Restart channels list.

How do I use the Restart feature?
Find a show with a Restart icon in the live TV guide, highlight it and press OK.
Press OK to select the green Restart show button that appears.
The episode will start playing from the beginning. You can pause and rewind just like live TV, but you can't fast forward or record due to channel provider restrictions.
You can also launch Restart directly from the Program Info page of Restart-enabled content.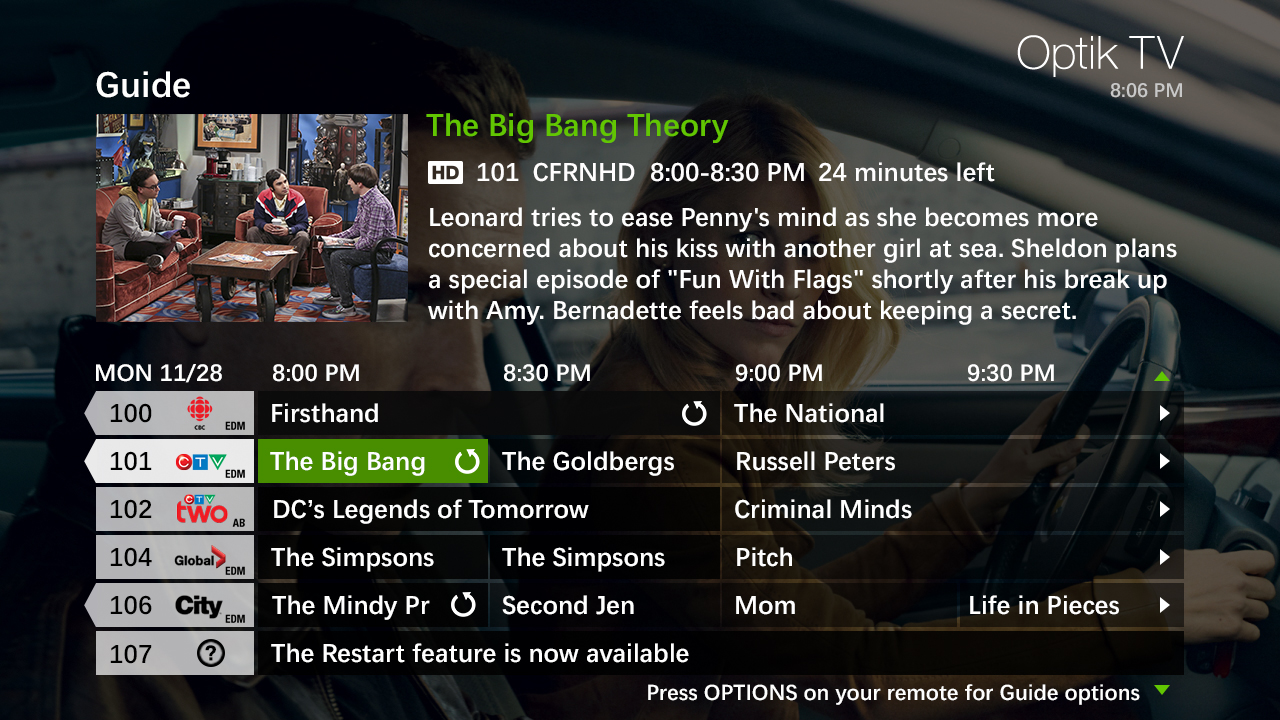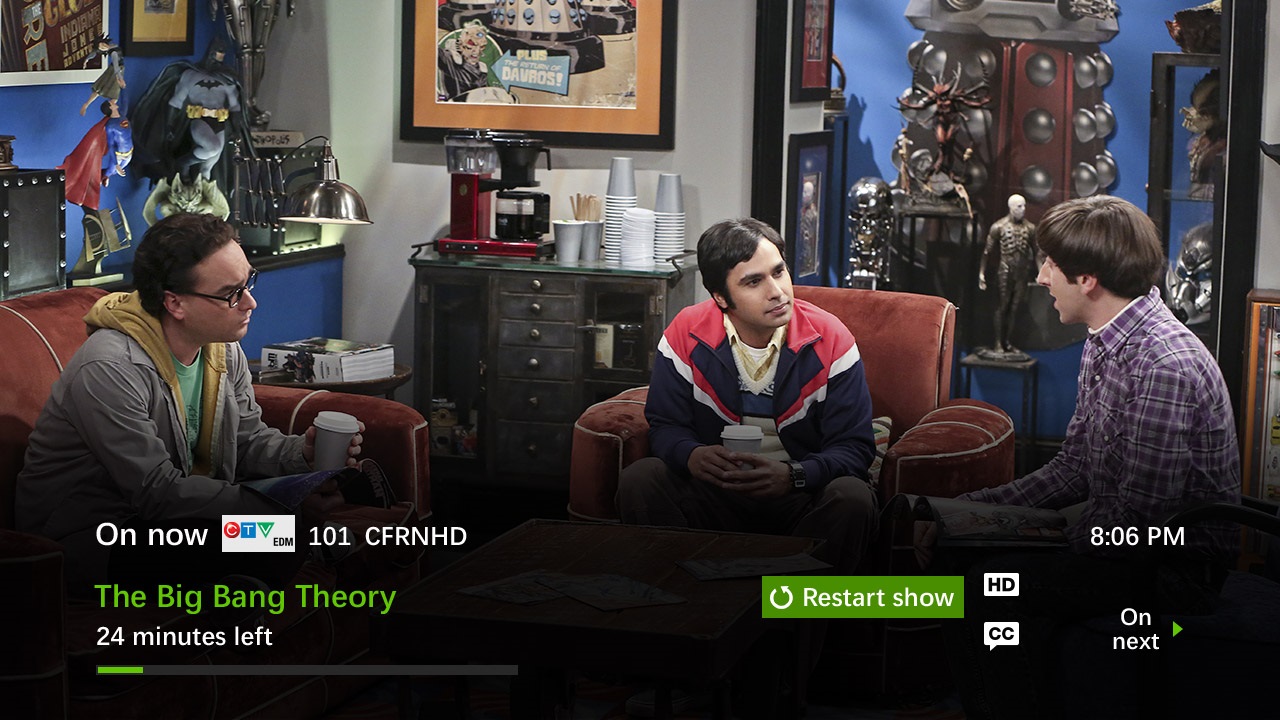 How do I get out of Restart mode and go back to live TV?

To get out of Restart mode, change the channel by using your Optik TV remote to press the up and down channel button. Then return back to your original channel. The channel should then operate in regular live TV mode.
Note: You enter Restart mode by selecting OK on the green Restart show button after selecting a channel with the Restart icon in the guide.
Which channels and programs offer the Restart feature?
Visit Optik Restart channel list for a complete list of channels which support the Restart feature.
Can I pause and rewind a program after restarting?
Yes, in most cases. When you pause or rewind, you will see a message similar to the following:
You have until _____ to finish watching this program.
How long can I pause a show after restarting?
You can pause for 10 minutes. After that, live TV will resume.
Can I record a show after restarting?
Similar to On Demand content, you cannot record restarted shows. However, you can go back to live TV and record the program from that point on.
Can I fast forward a show after restarting?
Similar to live TV, you cannot fast forward or skip commercials or programming that has been restarted. This is due to channel provider restrictions. Fast forwarding may be available on select programming.
If I exit a restart program after restarting, can I resume later from where I left off?
Yes, it is possible to resume programs from where you left off under some conditions. In those cases, the Restart show button is replaced by a Resume button.
Is there a cost to restart a show?
No, this feature is included with Optik TV at no extra cost.
What happens after I finish a Restart show?
Depending on the content rights of the next show, you can continue watching in Restart mode or you will return to in-progress live TV.
Why do I see Restart messages when I rewind Live TV?
If you rewind immediately after tuning in to a program where Restart is available, you will trigger Restart mode.
When tuning in to a new channel, wait 30 seconds before rewinding. Your request will proceed without triggering Restart mode.
I missed pressing the Restart show button – how else can I restart?
Approximately 5 seconds after tuning in to a channel, the channel peek and the Restart show button disappears. You can get it back by pressing the down arrow on your remote. Once it appears, press OK to Restart show.
You can also press the Info button on your remote once you have tuned in to the channel. You will see an option to Restart show. Select it to restart your show.
How do I disable the Restart feature?
There is currently no option to disable the Restart feature. You can still watch Live TV as normal: simply ignore the Restart show button and it will disappear after a few seconds.
TIP: You can remove the channel peek (1) that displays the Restart show button by pressing the Back/Exit button on your remote while this preview window is visible.